WELCOME TO....
FOREVER BOWIE
---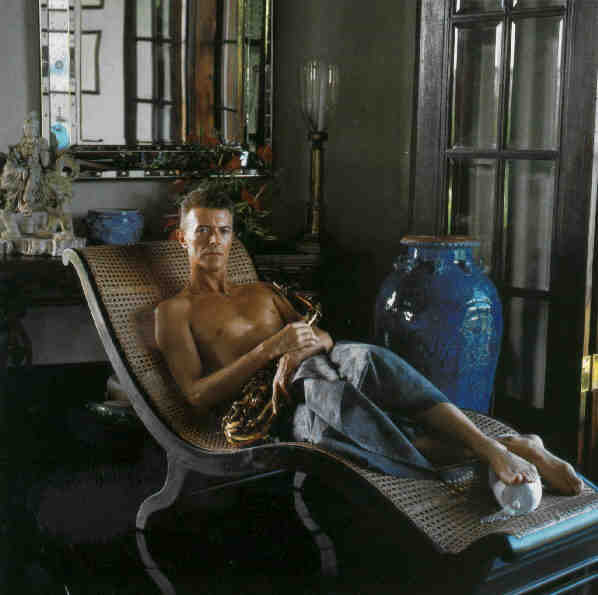 From Diamond Dogs to a glam alter ego out to save the world from destruction, David Bowie has done it all. For over more then three decades, he has influenced the art world dramatically. He has sung, acted, written, painted, and set up his own online community. Everything he has done, everything he has changed, has amazed us all.
David Bowie was born David Robert Jones on Wednesday, January 8 1947 at 40 Stansfield Road in Brixton England. From the moment he was born his parents, Haywood Stenton "John" Jones and Margaret Mary "Peggy" Burns, knew he was something special. Even the midwife that was present at David birth said, "He's been here before," since he had such "knowing eyes."
In the past year, David has been nominated for a Grammy, he has been bestowed with a beautiful little girl, and he has kept us all on the edge of our seats waiting to see what comes next. But, with David Bowie, there is no telling what might happen.
---
This site has been visited
times as of January 8, 2000
---
The Bowie Baby is here!! IT'S A GIRL! Click here for pictures and commentary!
---
Some Quick Bowie Facts:
Born: January 8th, 1947.
Real name: David Robert Jones (some say that there is another middle name like Haywood or Hayward, but there is not, at least not legally! His name on his birth certificate is David Robert Jones.)
Family: Margret (Peggy) Mary Burns (mother), Haywood Stenton (John) Jones (father), Terry Burns (brother), Myra Ann Burns (sister), Anette Jones (sister). NOTE: all children were born out of marriage.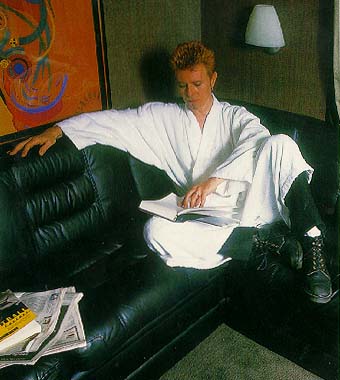 About the eyes: David Bowie, (if you didn't already know) has two different sized pupils. This happened in the Spring of 1961. David and George Underwood got into a fight over a girl. Underwood was wearing a ring and when he struck at Bowie, it hit him in the eyes. David was out of school for 8 months. He had several surgeries to try to fix his eyes, but they could only salvage the right eye leaving the left pupil permanently dilated. If you were to look through that left eye, it would look brownish and blurred going into a blind spot in the center. Ironically, this has become a 'trademark' of Bowie.
Note: after the fight, David got the girl :)
Discography
I now have added a HUGE list of David Bowie singles starting from 1964 with David and the King Bees and it is finally finished! Check it out!

Soon to come: a fully operational David Bowie lyrics database! This is the biggest project Forever Bowie has done so please, hang on for the ride! See the start of it Here!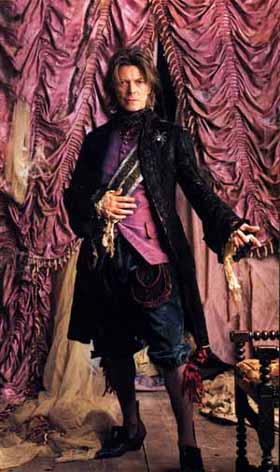 Some Worthwhile Bowie Links.
Bowie Wonder World This site is by Paul Kinder and is filled with information! I suggest you go there!
Bowie Net this site is the official site for Bowie fanatics, non-members can skim it, but members get a look at David's web journal, participate in online Bowie contests, and David even comes around sometimes to chat, but be warned, some of the contests aren't fair!
Teenage Wildlife This site is owned by Evan Torrie (AKA Sheep Shagger) It is graphics intensive and is right on top of the latest DB news.
CDNow a great place to buy David Bowie CD's and other memorabilia (well, somewhat!)

If You want to Contact me......I appreciate feedback.
Sign My Guestbook
View My Guestbook
Who Dun It?
Here's a special story written just for Forever Bowie!! A David Bowie Murder Mystery!
---
How did I get into Bowie?
All of Bowie fans have a story about how he or she got into Bowie. For me it all started when I saw Labyrinth. Here is that story. Or, you can read the script of Labyrinth.
---
Too Much Bowie?
Have you ever wondered when you have had too much Bowie? Well, here it is......the Forever Bowie You know you've been a fan of Bowie too long when.....list!

---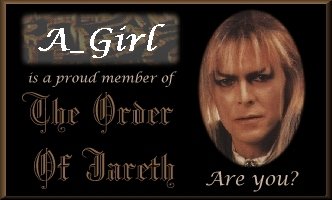 Looking for other Bowie stuff? Well, try going here!
Or if you need an index, here's one for the Forever Bowie Site ...
and one for Forever Bowie Images
And please check out the Forever Bowie Bibliography!
---
Thanks for visiting Forever Bowie. Be sure to check back for updates and other news!
Luv on ya'!
Forever Bowie © 2001 by A_Girl inc. This page last updated 08/09/01 11:12:59 PM MTN. STD. time by A_Girl.
Check out my awards n' stuff page for this site!